The Most Walkable Neighborhoods in Dallas
Posted by Maxi Calibo on Saturday, June 10, 2023 at 12:00 PM
By Maxi Calibo / June 10, 2023
Comment
Walking is not only a great way to stay active and reduce your carbon footprint, but it also allows you to discover the hidden gems of a city. In a sprawling metropolis like Dallas, where neighborhoods vary greatly in terms of walkability, finding pedestrian-friendly areas can enhance your experience and provide a more vibrant and accessible urban lifestyle. This article will explore the most walkable neighborhoods in Dallas, highlighting their unique characteristics and attractions.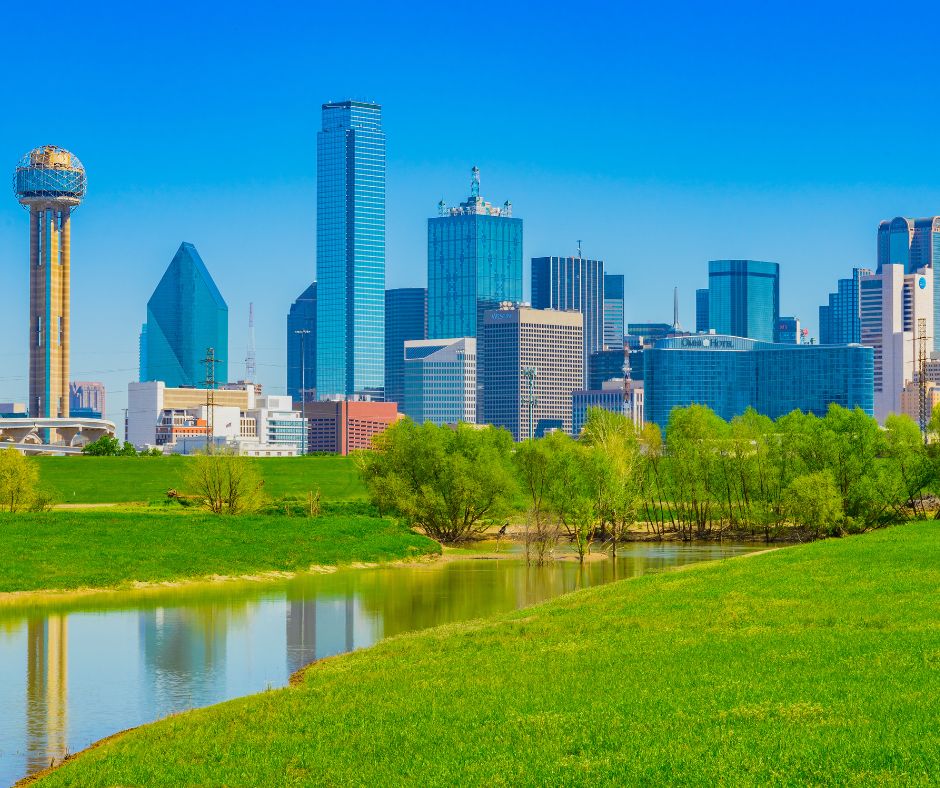 Dallas, the third-largest city in Texas, is known for its thriving economy, diverse culture, and unique neighborhoods. While some areas are more car-dependent, there are pockets of walkable neighborhoods that offer a pedestrian-friendly experience. Exploring these areas on foot allows residents and visitors to enjoy a mix of shops, restaurants, parks, and cultural attractions.
Why Walkability Matters
Walkability is a crucial factor when it comes to choosing a neighborhood. It not only promotes a healthier lifestyle but also reduces traffic congestion and fosters a sense of community. Walkable neighborhoods often have well-maintained sidewalks, pedestrian-friendly infrastructure, and a mix of residential and commercial spaces within close proximity.
1. Downtown Dallas: The Heart of the City
Downtown Dallas, the city's central business district, is a bustling hub with a mix of commercial, residential, and cultural spaces. The walkability of this area is constantly improving, with initiatives focused on making it more pedestrian-friendly. The district boasts iconic landmarks such as the historic West End, Dealey Plaza, and the Dallas Arts District.
2. Uptown: Where Style Meets Convenience
Uptown is a trendy neighborhood known for its upscale residential buildings, vibrant nightlife, and proximity to some of the city's best dining and shopping destinations. This walkable district offers a mix of high-rise apartments, townhomes, and condominiums, all within a short distance of McKinney Avenue, where you can find an array of restaurants, bars, and boutique shops.
3. Deep Ellum: A Vibrant Arts and Entertainment District
Deep Ellum is a neighborhood with a rich history of music and arts. This eclectic district is famous for its live music venues, street art, and vibrant nightlife. Walking through Deep Ellum's streets allows you to discover local art galleries, unique shops, and a diverse selection of restaurants, making it a must-visit for those seeking a lively and artistic atmosphere.
4. Lower Greenville: A Mix of Charm and Trendiness
Lower Greenville is a neighborhood that perfectly combines the charm of the past with a trendy and contemporary vibe. Known for its tree-lined streets, historic homes, and locally-owned businesses, Lower Greenville offers a variety of restaurants, bars, and boutiques. Walking along Greenville Avenue, you'll encounter a blend of old-fashioned architecture and modern entertainment venues.
5. Oak Lawn: Diversity and LGBTQ+ Culture
Oak Lawn is a vibrant neighborhood that has long been a center of LGBTQ+ culture in Dallas. This diverse community offers a range of bars, restaurants, and shops catering to different tastes and interests. The neighborhood's walkability is enhanced by the Katy Trail, a popular pedestrian and cycling path that stretches for miles, offering a scenic escape from the city's hustle and bustle.
6. Bishop Arts District: A Haven for Creativity
Bishop Arts District is a thriving artistic enclave located in the Oak Cliff area of Dallas. Known for its unique boutiques, art galleries, and gourmet dining options, this neighborhood is a paradise for creative souls. Walking through Bishop Arts District allows you to immerse yourself in a vibrant atmosphere and explore the works of local artists and artisans.
7. Knox-Henderson: Retail Therapy and Dining Delights
Knox-Henderson is a bustling neighborhood that caters to both shoppers and food enthusiasts. This walkable district offers an array of retail stores, from designer boutiques to vintage shops. After indulging in some retail therapy, you can treat yourself to a diverse culinary experience, with numerous restaurants and cafes serving delicious meals from various cuisines.
8. Victory Park: A Modern Urban Oasis
Victory Park is a contemporary neighborhood located near the American Airlines Center and the Perot Museum of Nature and Science. With its mix of residential, office, and retail spaces, Victory Park is an emerging destination for shopping, dining, and entertainment. The area's walkability is enhanced by its well-planned streetscapes, public parks, and access to the Katy Trail.
9. Design District: Artistic Flair and Design Excellence
Design District is a neighborhood that showcases the best of Dallas' artistic and design talents. Known for its high-end showrooms, art galleries, and antique shops, this area is a paradise for design enthusiasts. Walking through the Design District allows you to admire exquisite furniture, sculptures, and contemporary art while enjoying the neighborhood's trendy cafes and restaurants.
10. East Dallas: Historic Charm and Eclectic Offerings
East Dallas is a diverse neighborhood that combines historic charm with a vibrant and eclectic atmosphere. This walkable area is home to the popular White Rock Lake, where residents and visitors can enjoy outdoor activities such as walking, jogging, and boating. Additionally, East Dallas boasts an array of local businesses, including coffee shops, restaurants, and vintage stores.
11. Trinity Groves: Foodie Paradise with a Scenic View
Trinity Groves is a unique neighborhood that has transformed into a foodie haven in recent years. Located near the Trinity River, this area offers breathtaking views of the Dallas skyline. Trinity Groves is known for its diverse culinary scene, featuring a variety of restaurants serving cuisines from around the world. Walking along the riverfront and indulging in delicious meals is a delightful experience for both locals and tourists.
12. The Cedars: A Booming Artistic Community
The Cedars is an up-and-coming neighborhood that has become a hotbed for artistic and cultural activities. With its proximity to the Dallas Arts District, this area attracts local artists, musicians, and creatives. The Cedars boasts a mix of art galleries, music venues, and unique dining establishments, making it a vibrant destination for those seeking an alternative and avant-garde atmosphere.
13. White Rock Lake: Nature's Serene Escape
White Rock Lake is a natural gem nestled in the heart of Dallas. This picturesque lake offers a serene escape from the city's hustle and bustle, providing ample opportunities for walking, running, cycling, and picnicking. The surrounding area features lush green spaces, hiking trails, and the historic Bath House Cultural Center. Exploring White Rock Lake on foot allows you to connect with nature and enjoy peaceful moments away from the urban landscape.
Conclusion
Dallas is a city that offers a diverse range of neighborhoods, each with its own distinct character and walkability. From the vibrant streets of Downtown and Uptown to the artistic enclaves of Deep Ellum and Bishop Arts District, there are plenty of options for those who prefer exploring on foot. Whether you're a resident or a visitor, embracing the walkable neighborhoods of Dallas allows you to discover the city's hidden treasures, immerse yourself in its culture, and enjoy a more connected and vibrant urban lifestyle.
FAQs
1. Are these neighborhoods safe for pedestrians?
Dallas is generally a safe city for pedestrians, but it's always advisable to exercise caution and be aware of your surroundings, especially at night. Stick to well-lit areas and use designated pedestrian crossings whenever possible.
2. Are there public transportation options available in these neighborhoods?
Yes, Dallas has a public transportation system that includes buses and light rail services. Some of the walkable neighborhoods mentioned in this article have convenient access to public transportation, making it easy to explore other parts of the city.
3. Can I find parking easily in these neighborhoods?
Parking availability varies depending on the neighborhood and the time of day. Some areas may have street parking, while others may have parking garages or lots. It's advisable to check for parking options in advance or consider using public transportation or ridesharing services.
4. Are there any parks or green spaces in these neighborhoods?
Many of the walkable neighborhoods in Dallas have parks or green spaces nearby. For example, White Rock Lake in East Dallas and the Katy Trail in Oak Lawn provide opportunities to enjoy nature and engage in outdoor activities.
5. Can I bring my pet with me while exploring these neighborhoods?
Pets are generally welcome in most outdoor areas of these neighborhoods, but it's essential to follow local regulations regarding leash laws and pet waste disposal. Some restaurants and businesses may also have specific policies regarding pets, so it's advisable to check in advance.