Rent-to-own and owner financed homes in Sugar Land, TX
Posted by Alexander Burlat on Saturday, June 22, 2019 at 5:04 PM
By Alexander Burlat / June 22, 2019
Comment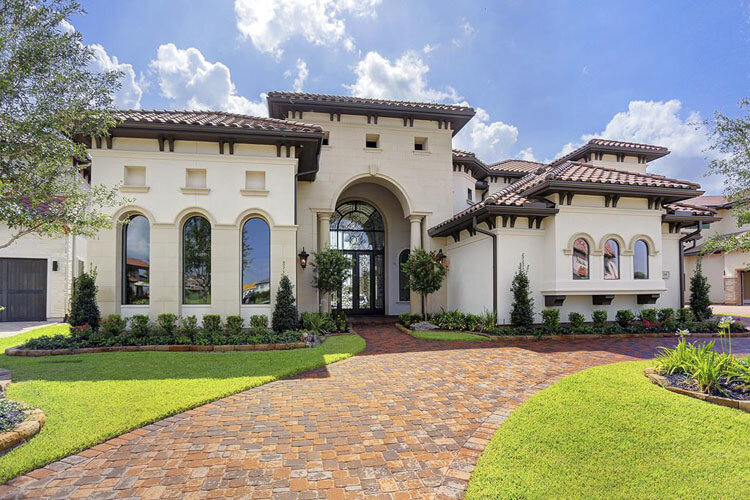 Sugar Land, TX is one of the most sought-after housing markets near Houston, very popular among families as well as individuals for a variety of reasons. The exponential growth in population - from 2000 to more than 100,000 residents in just five decades – is the testimony to its popularity among home buyers. If you are looking to buy a home in an established community near Houston, Sugar Land neighborhoods should figure prominently on your wish list.
For credit-challenged home buyers, rent-to-own and owner financed homes are easily available in Sugar Land. We at Shop Owner Finance can help you learn how you can buy any home with no credit check or income verification. This guide aims at explaining all about Sugar Land neighborhoods and housing market, but before reading further you can jumpstart your home buying journey by exploring the Sugar Land home listings below. Fill up the form on the property listing page and we will get in touch with you promptly.
Why to buy a home in Sugar Land, TX
Sugar Land is a city in Fort Bend County, TX. Its close proximity to downtown Houston makes it a popular real estate market. Sugar Land is one of the most expensive housing markets near Houston, particularly popular amongst professionals employed in white-collar jobs.
A distinction which will immediately grab your attention is that Sugar Land is the largest master-planned community in the country. It means that the residential and commercial constructions are heavily regulated and the development takes place in a systematic manner. It also paves the way for a lot of green space and community amenities such as club houses, swimming pools, parks, tennis courts, fishing lakes, and walking trails.
The crime rate is exceptionally low compared to the national average, making its neighborhoods safe for families looking to relocate here and raise kids. Other attractions which draw a lot of families to Sugar Land are top-rated private and public schools, easy availability of single family homes, peaceful neighborhoods, lush landscape and a close-knit community with strong bond among residents.
Not surprisingly, Sugar Land has won many 'best and safest city' awards.
Irrespective of your race or ethnic group, Sugar Land will make you feel at home. While Whites are the dominant race, many families from Asia and Europe have settled down in Sugar Land. Over 35% of the population consists of foreign-born residents.
There are 33 elementary schools, 14 middle schools and 11 high schools in Sugar Land.
Most homes here are owner occupied. The percentage of owner-occupied properties is over 80%, almost 25% more than the Texas average. Not only that, over 85% of the population is considered married. The high percentage of owner-occupied properties contributes to a strong community spirit among the city's residents.
Since the median household income is high, it reflects in median home prices. They are over $280,000, almost 98% higher than the Texas average. The homes report an average appreciation of 3.3% year-over-year. It means that you will see a good return on your investment in a home in Sugar Land, TX.
An important thing to consider when buying a home in Sugar Land is that the average commute time to work is almost 32 minutes. The public transport is barely used, so you need to own a car for commuting in the city.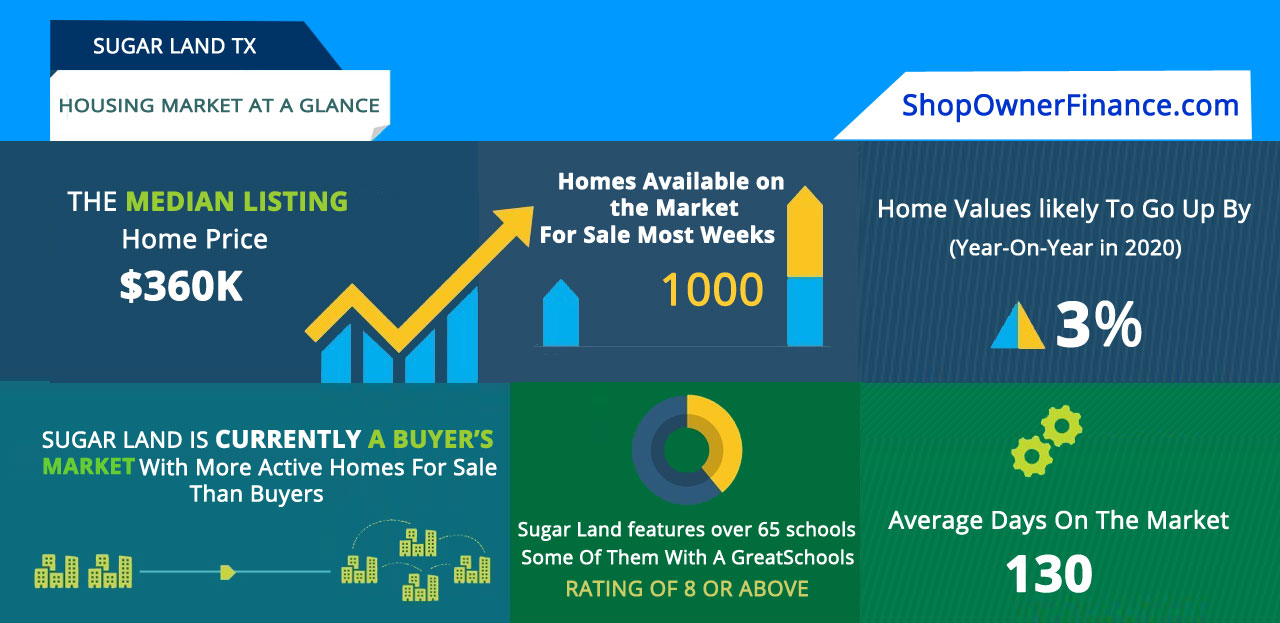 Best Sugar Land neighborhoods
Buying a home in any neighborhood in Sugar Land is likely to offer the best value for money, but here are some of the most desirable neighborhoods you should be aware of:
Sugar Lakes
A waterfront community spread over 330 acres, Sugar Lake boasts of some of the best amenities in Fort Bend County. There are many world-class club houses, tennis courts, parks and swimming pools. Homes in some areas such as the Bay View offer full lake access. Sugar Lakes features many nature reserves and beautiful lakes.
Sugar Creek
Sugar Creek is yet another affluent neighborhood in Sugar Land, TX. While construction-related activities in all neighborhoods of Sugar Land are heavily regulated as we have already mentioned, Sugar Creek is the best master-planned community in Fort Bend. Most homes are owner-occupied.
How to buy a rent-to-own or owner-financed home in Sugar Land
Buying a rent-to-own or owner-financed home in Sugar Land is a straightforward process. In recent in-depth articles, we explained how rent-to-own and owner financing process works.
You can go through the listings above or use our state-of-the-art search form to find your dream home in Sugar Land. We will help you buy it with owner financing (no credit check or income verification required).
Does it mean that you can buy any Sugar Land home even if you can't qualify for a traditional mortgage?
The answer is yes.
While there are only a limited number of rent-to-own listings in Sugar Land, our program helps you learn how you can buy any home you want in this popular housing market.
You should also know that owner financing makes it possible to purchase a home with financing terms similar to a traditional mortgage (such as 30-year amortization period, no pre-payment penalties for refinancing and fixed-rate interest).
If you are interested in learning more about our real estate brokerage service, set an appointment today.