Midtown TX rent-to-own & owner financed homes with no credit check
Posted by Alexander Burlat on Thursday, July 25, 2019 at 4:23 PM
By Alexander Burlat / July 25, 2019
Comment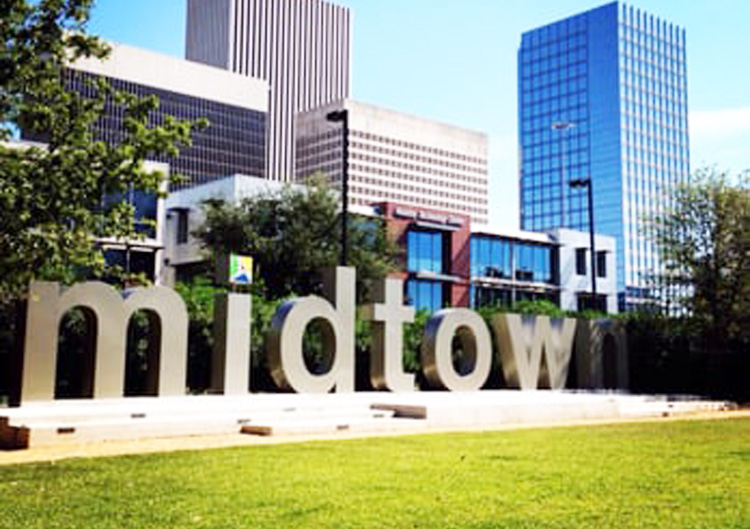 Midtown TX is home to some of the largest employment centers near downtown Houston. On top of that, it's one of the most affordable neighborhoods. Needless to say, Midtown is a sough-after destination for families and professionals looking to fulfill their homeownership dream without breaking the bank. The area has witnessed a lot of development over the past few years and now features several popular restaurants, cafes, shopping malls, gyms, bars, diners and entertainment centers. Midtown is served by the Houston Independent School District which means that some of the best performing schools of Texas are in close proximity.
Being a business hub, Midtown is popular among entrepreneurs and business owners. These self-employed professionals face certain challenges when they are in the Midtown housing market looking for a home. They struggle to qualify for a conventional mortgage. If you too are struggling to qualify for a mortgage due to bad or no credit, we can help you learn how to buy any Midtown home with rent-to-own arrangement or owner financing. No need for credit check or income verification! Explore a few of the Midtown home listings below or get in touch with us to start your home buying journey today regardless of your credit situation.
Why to buy a rent-to-own or owner financing home in Midtown TX
Here are a few of the reasons why you should consider buying a home in Midtown:
Affordability and a wide selection of homes
As already mentioned, Midtown is more affordable than most neighborhoods near downtown Houston. Though the median home price is about $325,000, many starter 3-bedroom homes are listed at even more affordable price – starting from $200,000. This feature makes Midtown an ideal housing market for credit challenged home buyers who want to keep their down payment low and buy with no credit check financing options. Saving for a 15%-20% down payment will be easier for a budget home, right?
Midtown homes are built on comparatively smaller lots, but they are in a wide range of architectural styles. Midtown neighborhoods feature wide streets with sidewalks and a lot of greenery.
A lot of new construction has been going on in many neighborhoods, so it's quite easy to find a brand new home in your budget. There are over 100 homes listed for sale most weeks in Midtown which means you will have a lot of options and can easily find a home that fits your budget and requirements. There are over 4500 housing units in Midtown.
Top performing schools
Some of the best elementary schools in Midtown include Macgregor El, Gregory-Lincoln Ed Center and Precious Jewels Alpha Learning Center, LLC. Among the popular high schools are Houston Academy For International, Lamar High School and Reagan High School.
Diversity
Home to about 8500 residents, Midtown is made up of diverse communities. Most people are employed in white collar jobs. As prominent employment centers are in close proximity, the area has seen a lot of professionals and families relocating here. Almost 30% of the population has moved to Midtown from other parts of the country or state. What it basically means is that you will be able to settle into your new community in no time.
About 60% residents report their race to be white, while about 30% are Hispanics and African Americans. Regardless of your race, religion or ancestry, you will be able to develop social ties in Midtown easily.
A good investment
Buying a home in Midtown will likely prove a good investment because almost 25% homes are renter occupied. A high rental demand indicates a strong housing market with good prospects of appreciation in values in the future. Midtown homes appreciated about 40% in value over the past 10 years.
Amenities and accessibility
Midtown is home to excellent medical and healthcare facilities. The world's large healthcare facility – Texas Medical Center – is in close proximity. Many popular Inner Loop neighborhoods such as Montrose and EaDo are minutes away. The migration of young population and professionals have led to the opening of several shopping centers, malls, restaurants, gyms and cafes over the past few years. Midtown also boasts of a vibrant nightlife.
If you need to buy a home near downtown Houston without breaking the bank, Midtown is one of the best options for you. Landing your dream job is easy as Midtown is home to over 4000 businesses employing over 125,000 people.
Gulf and Southwest freeways and Main Street, Alabama Street, and Fannin Street are in close proximity, boosting accessibility.
How to buy a rent-to-own or owner-financed home in Midtown with bad credit
A rent-to-own or owner finance home can be purchased with no credit check. Even if you have bad credit and can't obtain a mortgage from a traditional lender, you can buy any Midtown home you want with owner financing. Interested in learning more about how owner financing makes it possible, get in touch with us today.