Humble TX rent-to-own & owner-financed homes with no credit check
Posted by Alexander Burlat on Tuesday, November 26, 2019 at 5:25 PM
By Alexander Burlat / November 26, 2019
Comment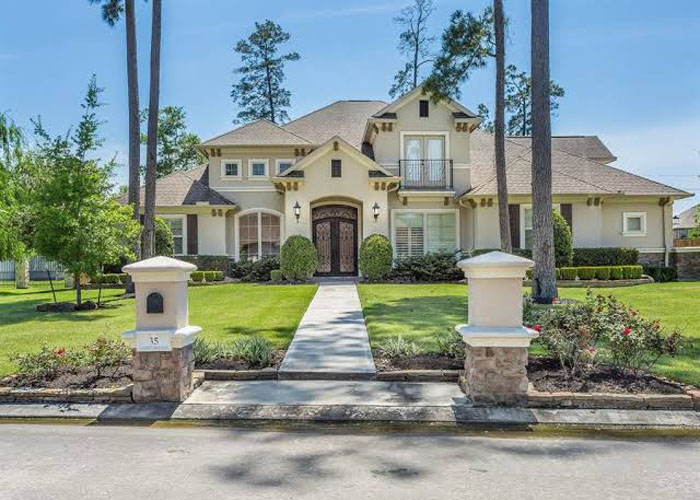 Humble TX is one of the most affordable housing markets near Houston. The median listing price is just $230,000 which makes it one of the most sought-after destinations for credit-challenged home buyers. Easy accessibility to downtown Houston, top-rated schools, excellent amenities and affordable housing options are some of the features that draw a lot of families and professionals to this Houston suburb. Humble - located in Harris County, is home to over 16,000 residents with diverse ethnic and religious backgrounds.
If you are struggling to qualify for a conventional mortgage, you can consider buying a home in Humble with owner financing and other alternative financing options such as rent-to-own. Browse through the Humble home listings below and fill out the form on the property listing page. We – here at Shop Owner Finance – will help you learn how to buy that home with owner financing.
Why buy a rent-to-own or owner-financed home in Humble with bad credit
Here are a few reasons you should consider buying a home in Humble TX:
High affordability and wide selection of homes
As already mentioned, the median listing price in Humble TX is $230,000. Since alternative financing options such as owner financing may require you to arrange for a reasonably large down payment (anywhere between 15% and 20%), you will find it easier to buy a home in Humble.
According to the National Association of Realtors (NAR), there are about 1500 homes listed for sale in Humble most weeks. The majority of residential properties listed for sale are single-family homes. The wide selection of homes makes it easier for you to buy a home within your budget despite the fierce competition among buyers for homes in desired locations.
Top-rated schools
Humble TX residents have easy access to over 75 elementary, middle, and high schools. Some of the top-rated public schools in Humble include:
Elementary Schools
Shadow Forest Elementary School
Willow Creek Elementary School
Deerwood Elementary School
Bear Branch Elementary School
Eagle Springs Elementary School
Greentree Elementary School
Middle schools
Riverwood Middle School
Creekwood Middle School
Timberwood Middle School
Woodcreek Middle
High schools
Quest Early College High School
Kingwood High School
Kingwood Park High School
The majority of these schools have a GreatSchools rating of 8 or more. This makes Humble a very popular housing market among families.
Excellent amenities
A large number of restaurants, diners, bars, shopping malls, swimming pools, playgrounds, sports facilities, parks, and golf course communities add to the charm of this suburb. Wide tree-lined streets and greenery are also some of the best features of Humble. Some of the great places in Humble for recreational activities, shopping, and dining include:
The Golf Club of Houston
Schott Park,
Hirsch Park,
Timberwood Park,
Uptown Park.
Dick's Sporting Goods,
Dillard's,
Forever 21,
JCPenney,
Macy's,
Sears
Easy accessibility to downtown Houston
Due to the proximity to Highway 59 (Eastex Freeway), Humble provides easy access to downtown Houston. This makes it a favorite destination for professionals.
Popular Neighborhoods in Humble
Eagle Springs
Sports buffs would love Eagle Springs for its abundance of recreational sports facilities which include tennis courts, soccer fields, baseball fields, as well as a sand volleyball court. It also comes with neighborhood pools and playgrounds for kids to have fun and enjoy.
Fall Creek
If you're a huge fan of water sports or love getting your feet wet, Fall Creek offers about 3 acres of wetlands along with a couple of swimming pools and a splash park. There's also a homegrown course for those who love putting greens.
Walden on Lake Houston
The small-town vibe of Walden creates a relaxing vibe and a scenic environment that's complemented by world-class amenities including a neighborhood pool located right in the middle of a golf course.
Atascocita Shores
If the beautiful view of the lake is not enough to captivate you, maybe Atascocita Shores' miles and miles of nature trails will. Homes here have a family-friendly feel while the local playground, neighborhood pool, and easily-accessible golf course ensure locals always have something to do.
Balmoral
Those who love living close to the beach don't have to look any further. Balmoral offers a beautiful lagoon-style beach entry pool with actual white sand and a beach volleyball court.
Other Humble Neighborhoods Where You Can Buy Owner-Financed Homes:
| | | | |
| --- | --- | --- | --- |
| Arbor Trails | Claytons Corner | Island Greens | Oak Knoll Estates |
| Atasca Oaks | Claytons Park | Kenswick | Oaks Atascocita |
| Atasca Woods | Club Point | Kenswick Forest | Park At Atascocita Forest |
| Atascocita Forest | Cypress Gardens | Kenswick Glen | Park At Kings Manor Condo |
| Atascocita Meadows | Cypresswood Point | Kenswick Meadows | Parkland Estates |
| Atascocita North | D B Cherry Abst 695 J Strange | Kenswick Trace | Parkside At Kingwood Glen |
| Atascocita Park | Deerbrook Estates | Kings Colony | Pinehurst Of Atascocita |
| Atascocita Shores | E Herron U/r Abst 95 WB Adams | Kings Crossing | Pines Of Atascocita |
| Atascocita South | Eagle Creek | Kings Lake Estates | Riggs |
| Atascocita Spgs | Eastex Oaks Village | Kings River Estates | Riverwood |
| Atascocita Timbers | Fall Creek | Kings River Villas | Saddle Ridge |
| Atascocita Trace | Forest Shadows | Kingwood Glen | Shady Trees Addn |
| Atascocita Trails | Foxwood (Humble) | Kingwood Glen Village | Spears Village |
| Atascocita West | Foxwood Mdws | Kingwood Kings River Village | Sunset Ridge |
| Audubon Park | Glen Lee Place | Kingwood Place | Sunset Ridge West |
| Balmoral Park Lakes East | Golf Villas Of Atascocita | Lakeland (Humble) | The Colony |
| Belleau Wood East | Green Manor | Laurel Place | Timber Forest |
| Belleau Woods | Groves | Lee Land | Timberhills |
| Benders | Heather Ridge Village | Lucius Edw | Timberwood |
| Blackstone | Hobby Wm | Memorial Glen | Tour 18 |
| Bordersville | Humble | Merrylands | Town/humble |
| Bowers | Humble Acres | Mill Creek | WB Adams Abstract |
| Butler | Humble Estates | Morrison Mobile Homes | Walden Green |
| Canyon Gate At Park Lakes | Humble Heights | North Belt Forest | Walden On Lake Houston |
| Canyon Village At Park Lakes | Humble Road Gardens | North Hollow Estates | Waterhaven |
| Charpiot Partition Abst 1385 He&wtrr Co | Humble Road Place | Northshire | Werrington |
| Classic Pines Estates | Intercontinental Village | Nueces Park Place | Westheimer |
| Clayton Park East | Isenberg | Oak Hill Estates | Woodland Pines |
Humble real estate market
The Humble housing market is currently very competitive and the reasons are obvious. You may have to get into a bidding war as most homes in desired locations receive multiple offers and are sometimes sold above the asking price.
In this scenario, you must be financially prepared particularly when you are struggling with credit. However, being credit-challenged doesn't mean you can't overcome the competition and buy your dream home. Owner financing enables you to buy any Humble home you want just like a regular home buyer can.
If you are interested in learning more about your options, get in touch with us today!
Housing Market

Median Listing Price
$325,000

Average Days on Market
41 Days

Public Schools
24

Homes for Sale
939
Commute Times

Downtown
23 Minutes

Texas Medical Center
32 Minutes

Museum District
27 Minutes

Energy Corridor
39 Minutes
Humble Appreciation Trends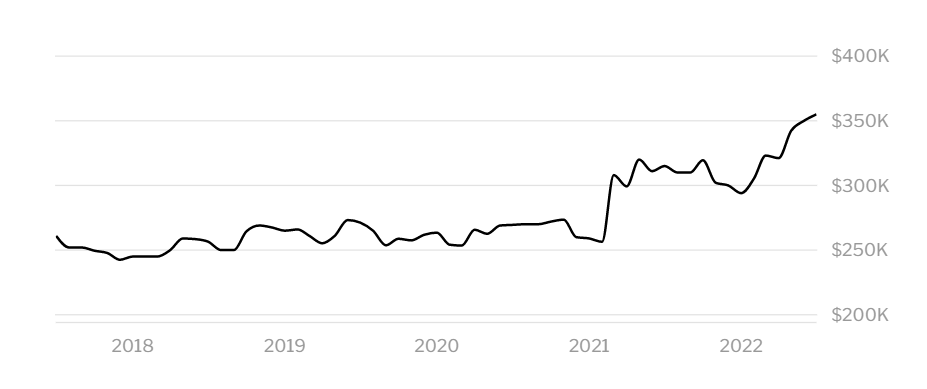 Humble Local Education
Top Elementary Schools
| School | Rating | Neighborhoods/Cities | Median Listing Price |
| --- | --- | --- | --- |
| Vista Academy of Humble | 7/10 | Humble, Woodland Pines, Atascocita Acres | $310,000 |
| Fall Creek Elementary | 6/10 | Fall Creek/Canyon Gate at Park Estates/Audubon Park | $347,000 |
| Atascocita Springs Elementary | 6/10 | Atascocita/The Groves/Lakeshore | $287,000 |
Top Middle Schools
| School | Rating | Neighborhoods/Cities | Median Listing Price |
| --- | --- | --- | --- |
| Vista Academy of Humble | 7/10 | Humble, Woodland Pines, Atascocita Acres | $310,000 |
| Jones Middle | 5/10 | Humble/Kenswick | $292,000 |
| Westlake Middle | 5/10 | The Groves/Summerwood/Lakeshore | $304,000 |
Top High Schools
| School | Rating | Neighborhoods/Cities | Median Listing Price |
| --- | --- | --- | --- |
| Quest Early College High | 7/10 | Atascocita Trace/Woodland Pines/Laurel Place | $247,000 |
Discover the Best of Richmond
While modest in name, Humble offers a rich living experience through exciting attractions and hotspots for everyone to love:

Dining
✓

Elm & Magnolia

✓

Raffa's Waterfront Grill

✓

Palette Indian Kitchen

✓

Smashburger

✓

The Curry House

Nightlife
✓

Old MacDonald's Farm

✓

Humble Museum

✓

Charles Bender Performing Arts Center

✓

Humble Public Library

✓

Houston WaterWorks

Shopping
✓

Deerbrook Mall

✓

Humblewood Shopping Center

✓

Deerbrook Crossing

✓

Humble Plaza Shopping Center

✓

Deerbrook Shopping Center

Leisure and Entertainment
✓

Old MacDonald's Farm

✓

Humble Museum

✓

Charles Bender Performing Arts Center

✓

Humble Public Library

✓

Houston WaterWorks

Parks and Recreation
✓

Mercer Aboretum & Botanic Gardens

✓

Atascocita Park

✓

Tour 18 Golf Course

✓

Golf Club of Houston

✓

Schott Park

Groceries
✓

H-E-B

✓

A-1 Supermarket

✓

Casa del Pueblo Meat Market

✓

Humble Shell

✓

Dollar General