Food, Fun, and Festivities: Embracing Texas's Rich Culinary and Cultural Heritage
Posted by Christelle Anne Boquiron on Wednesday, October 18, 2023 at 3:00 PM
By Christelle Anne Boquiron / October 18, 2023
Comment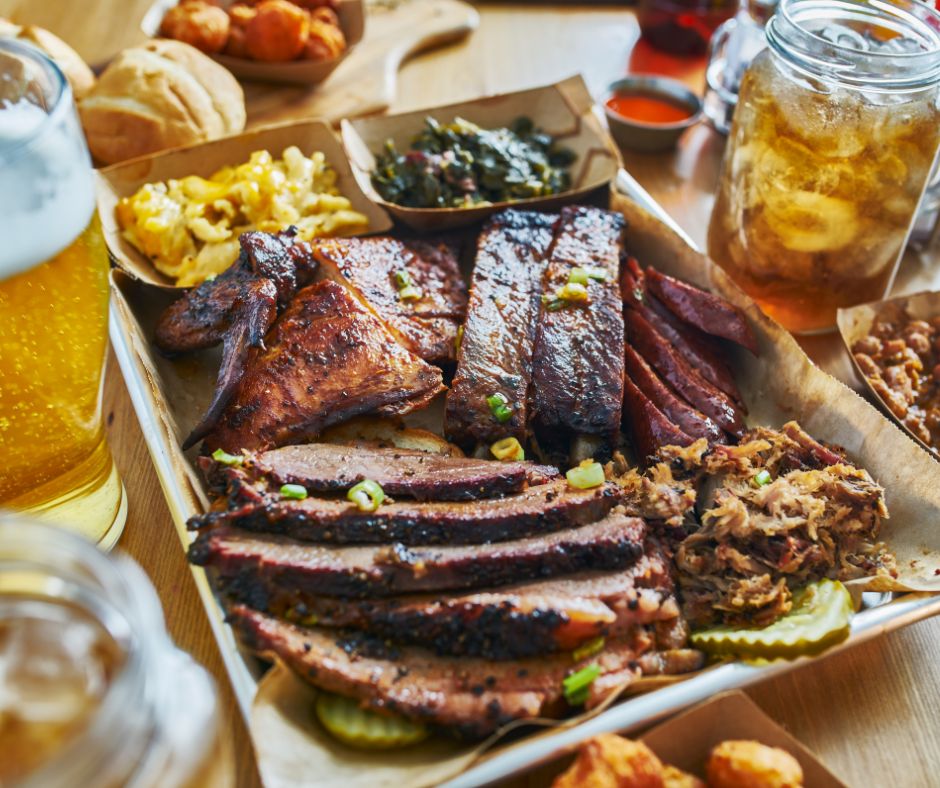 Hello y'all! Ever wondered what makes Texas not just a state, but a state of mind? Sure, we've got cowboy boots and big skies, but it's also about the food on your plate and the culture that brings us together. Think of Texas as a patchwork quilt where each square represents a unique blend of flavors and traditions—oh, what a colorful quilt that would be! 🤠
The King of BBQ
Is there anything that screams 'Texas' more than barbecue? You can smell it in the air—the hickory, the mesquite, the pure love for grilling. While the rest of the country debates burgers and hot dogs, Texas goes whole hog (or brisket) with its unique take on BBQ. Whether you're a lean or fatty brisket person, the Lone Star State has you covered.
Tex-Mex: More than Just Tacos
Oh, Tex-Mex, how do we love thee? Let us count the ways. It's not just about tacos; it's enchiladas, fajitas, and yes, margaritas too! In Texas, Tex-Mex is not just a type of food—it's a lifestyle. Imagine the perfect blend of Mexican spices with Texas farm-fresh ingredients. It's like a culinary handshake between two cultures.
From Farm to Table
Texas has a rich agricultural heritage that goes beyond cattle ranches. Picture this: vine-ripened tomatoes, farm-fresh eggs, and artisan cheeses—all sourced locally. Many restaurants here make farm-to-table more than a catchphrase; it's their mantra.
Seafood: A Gulf Coast Experience
We're not all turf; we've got some surf too! Texas has a coastline, remember? Shrimp, oysters, and redfish are just some of the treasures you can find. It's like the ocean just reaches out and gives Texas a big, salty hug.
Sweet Tooth, Texas Style
Pecan pie, cobblers, and Blue Bell ice cream—if you've got a sweet tooth, Texas is your paradise. These aren't just desserts; they're the grand finale in the symphony of a Texas meal.
Drinks that Define Texas
Sweet iced tea or perhaps a locally brewed beer? Drinks are the unsung heroes of the Texas dining scene. You haven't lived until you've tried a Texas craft beer with a side of BBQ.
Family-Style Feasting
Dining in Texas is often a family affair, with large platters in the middle of the table that everyone can dig into. It's about community, togetherness, and feeling at home, even if you're miles away from your actual home.
Festivals that Fill Your Soul
Food festivals in Texas are like our dishes—big and filled with flavor. From the State Fair to local chili cook-offs, there's always a reason to celebrate food and community.
Texas Music and Food: A Duo
Live music is often the side dish to a Texas meal. From country to Tejano, the music complements the food and amplifies the experience.
Food Trucks: Street Food Heaven
For a quick bite, nothing beats the innovation and charm of Texas food trucks. They offer a slice of gourmet heaven right on the street corner.
Cultural Influences
Texas cuisine has been influenced by Mexican, German, and even Czech cultures. It's like a melting pot where everyone's invited to the party.
A World in a State
From Vietnamese pho to Italian pasta, Texas embraces global cuisines like a long-lost cousin. You can travel the world without ever leaving the state.
The Social Aspect of Texas Food
Food in Texas isn't just to satisfy hunger; it's to socialize, make friends, and create lifelong memories.
Preserving Culinary Traditions
In Texas, recipes are heirlooms passed down through generations, keeping the tradition and culture alive.
Where to Start Your Texas Food Journey
Ready to dive in? From big cities to small towns, every place offers a unique slice of Texas flavor.
Conclusion
So there you have it, folks! Texas isn't just a place; it's a sumptuous, vibrant experience that appeals to all your senses. Whether you're munching on BBQ, swirling a glass of Texas wine, or dancing at a local food festival, you're not just enjoying a meal; you're becoming part of Texas's rich culinary and cultural tapestry.
FAQs
What is the most popular Texas dish?

Is this even a question? It has to be BBQ, particularly brisket!

Are there vegetarian options in Texas cuisine?

Absolutely, from farm-fresh veggies to innovative plant-based dishes, Texas has options for everyone.

What drinks go well with Texas food?

Iced tea, local beers, and margaritas are some local favorites.

How do Texas food festivals typically work?

Think big! Music, food stalls, competitions, and tons of fun.

Where can I find authentic Tex-Mex?

Just follow the aroma of freshly made tortillas and sizzling fajitas; it's everywhere!

Hungry yet? Come and taste what Texas is all about! 🌮🎉
Open 12/10 2703 Raven Ridge Dr
Pearland, TX 77584