Brazoria County TX rent-to-own & owner financed home with no credit check
Posted by Alexander Burlat on Thursday, October 3, 2019 at 5:28 PM
By Alexander Burlat / October 3, 2019
Comment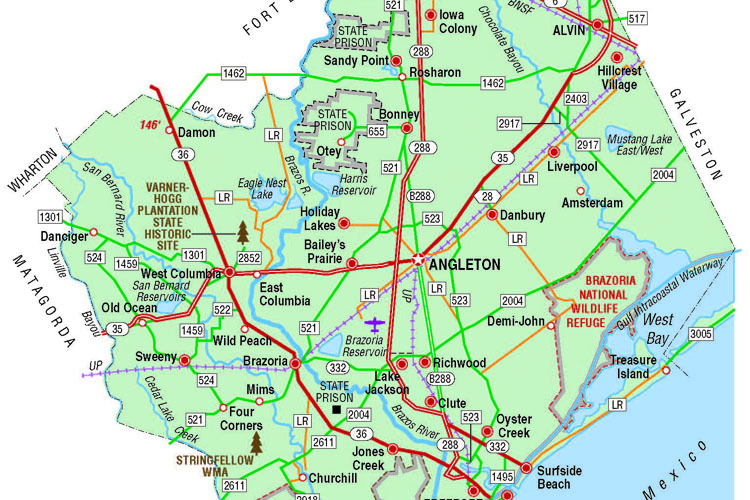 Home to nearly 400,000 people, Brazoria County TX is one of the most desirable housing markets for people looking to buy rent-to-own or owner financed homes with no credit check. A strong real estate market has led to a housing boom in Brazoria County over the past couple of years and this makes its cities and neighborhoods a sought-after destination for families and individuals struggling with credit. Owner financing enables them to buy with no credit check or income verification and once their credit score is good enough (owner financing payments are reported to credit bureaus so it helps them build credit), they can refinance with a conventional lender.
If you are looking to buy a rent-to-own or owner financed home in Brazoria County, explore the home listings below and fill out the form on the property listing page. Alternatively, you can browse all the Brazoria home listings by clicking here. A qualified realtor from Shop Owner Finance will guide you through the process of buying a home in Brazoria with bad credit.
Why to buy rent-to-own or owner-financed home in Brazoria
As a credit-challenged home buyer, you need to be more careful than a regular buyer when purchasing a home. A misstep can further damage your credit situation. Buying a home in Brazoria County could be a good move in your situation. Here are some of the reasons why you should consider investing in a home here:
Strong real estate market
Brazoria County is one of the most desirable housing markets near Houston. It is for this reason that while most counties have recorded a slowdown in home sales recently, Brazoria County is experiencing a strong demand from home buyers. The home values have increased by over 3% over the past 12 months. They will likely continue to rise this year also. Investing in a booming housing market may be a good financial move, particularly when you are struggling with credit. You will find it easier to refinance with a conventional lender when you have improved your credit score with regular owner financing payments.
Affordability and a wide selection of homes
Despite being a competitive housing market, homes are comparatively affordable in Brazoria County. The median home value is about $250,000. An affordable housing market is an ideal choice for credit-challenged home buyers because you might need a reasonably high down payment when buying a Brazoria home with owner financing or other alternative financing options. For example, we – here at Shop Owner Finance – recommend that you put anywhere between 15% and 20% when buying an owner-financed home.
There are 33 cities in Brazoria County and you will find over 3000 homes listed for sale most weeks. It means that you have a lot of choices when looking for a home in Brazoria County neighborhoods. You can easily find a home in your budget.
According to Realtor.com, Brazoria County is a balanced housing market. What it basically means that you won't necessarily face competition when you are in the market looking for a home in your budget.
Strong job market
One of the reasons for Brazoria County cities being popular among professionals is that it's easy to find jobs in a verity of industries here including manufacturing, healthcare, education, mining and oil and gas extraction.
The jobs pay well as the median household income here is about $85,000.
Diversity
People from all walks of life, race, ethnic and religious background call Brazoria County their home. While about 45 percent of the residents report their race to be White, nearly 30 percent residents are Hispanic or Latino. Almost 13 percent of the residents are foreign born. The diversity helps you develop social ties quickly.
Top-rated schools

Brazoria County features many top-rated schools, making it an ideal destination for families raising kids. Here are some top-rated elementary, middle and higher schools in Brazoria County:
Elementary Schools
Magnolia Elementary School
Silvercrest Elementary School
Glenn York Elementary School
Silverlake Elementary School
Shadycrest Elementary School
Bess Brannen Elementary School
Don Jeter Elementary School
Mary Burks Marek Elementary School
Laura Ingalls Wilder
Rustic Oak Elementary School
Middle Schools
Berry Miller J High School
Rogers Middle School
Sam Jamison Middle School
Pearland J H West
Pearland J H East
Alexander Middle School
Nolan Ryan J High School
Leon High Sablatura Middle School
Pearland J H South
Danbury Middle School
High Schools
Glenda Dawson High School
Robert Turner College And Career High School
Pearland High School
Brazoria County cities and neighborhoods for buying a bad credit home
Here are some of the cities popular among home buyers looking to buy rent-to-own or owner financed home with bad credit:
Angleton
Freeport
West Columbia
Danbury
Brookside Village
Brazoria
Manvel
Rosharon
Jones Creek
Old Ocean
Alvin
Clute
Surfside Beach
Oyster Creek
Holiday Lakes
Lake Jackson
Sweeny
Richwood
Iowa Colony
Bailey's Prairie
Wild Peach Village
Damon
Quintana
Liverpool
Hillcrest
Bonney
How to buy rent-to-own or owner financed home in Brazoria County
Buying a rent-to-own or owner financed home in Brazoria County is a good option if you are unable to secure a mortgage from a conventional lender. Here at Shop Owner Finance, we can help you learn how to buy any Brazoria County home you want with owner financing. You don't need to have stellar credit score or document your income when exploring this option. Get in touch with us today to know more!