Bellville, TX owner-financed & rent-to-own homes (no credit)
Posted by Christelle Anne Boquiron on Tuesday, July 6, 2021 at 4:36 AM
By Christelle Anne Boquiron / July 6, 2021
Comment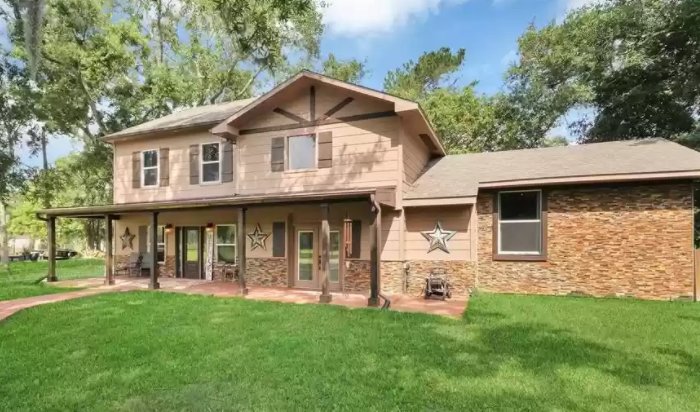 Bellville is an easy commute from Katy, Wallis, and Prairie View, and is just a short drive from the Houston metropolitan area. The historic downtown square is flanked with one-of-a-kind businesses that will pique any shopper's interest. More odd novelty businesses, as well as old buildings and residences, are strewn around town. Throughout the year, there are a number of community activities that attract residents and neighbors. The Austin County seat also hosts the Classic Car Stampede, Texas Select Forged in Fire, Fruehling Saengerfest, Austin County Fair, Pickin' N' Grinn' Music Festival, and Small Town Christmas, in addition to the First Saturday Market Day and Farmers Market. Antiques Weekend is held twice a year in Round Top, just down the road.
Many families and individuals want to move to Bellville, but not all of them are approved for a mortgage due to poor credit. when you acquire a home with a rent-to-own or owner-to-own program in Bellville, you don't have the freedom of buying a home of your choice as a bank-approved buyer does. But third-party owner financing is unique because it allows you to purchase any house on the market in this beautiful community.
In this guide, you will have free access to all the homes listed for sale in Bellville. You will also learn how you can buy any of these homes with owner financing.
Why Buy an Owner-Financed Home in Bellville, TX?
The following Bellville real estate market overview will help you decide if the city is the right home buying destination for you and your family:
The median listing price is around $250K and there are 100-200 homes for sale.
Bellville is a buyer's market so you won't need to worry about running out of options for your dream home and these listings usually stay on the market for an average of 190 days.
Mike Newman, the proprietor of Newman's Bakery downtown, is a baker by day and a king by night in a castle he's been working on for 20 years, replete with a moat, drawbridge, and a massive trebuchet. The dungeon and chapel are open to the public, and visitors can see the rest of the view from the bell tower.
The Bellville Perk is a classic coffee shop with a modern twist, akin to a small-town counterpart of Central Perk from the American TV program Friends. While the standard hot cup of java is available, specialty coffees such as the Chocolate Chip Frappe are also available in both hot and cold forms. Smoothies, shaved ice, and a whole lot more are all prepared to order here, and the Bellville Perk definitely holds its own name against big-name coffee shops.
Holland Street Gallery is a wonderful place to start if you want to learn more about Bellville's art scene. The objective of Holland Street Gallery, which features over 160 local artists, is to accept art in all of its forms. They have paintings, glasswork, weaving, ceramics, and much more on exhibit. The Holland Street Gallery also provides art workshops for all ages, such as the Kids' Summer Art Camp.
Bellville Meat Marker has been providing a magnificent selection of meat to keep visitors and residents pleased since 1981, with a butcher on duty at all times. Don't leave without trying the award-winning pecan smoked barbecue, which is made from a simple blend of excellent, locally produced pork and fresh dry rub ingredients that is slow-smoked for 14 hours using natural pecan wood logs, yielding highly tender meat.
Most Popular Bellville Neighborhoods for Owner-Financed Homes
South Creek Crossing
The lush greens and mature trees abound at South Creek Crossing offer a perfect complement to the near-perfect weather Belville is most appreciated for. Homes here evoke the style of old manors with modern features and functionalities that suit different homeowner needs.
Bell Oaks
Premier housing designs on vibrant green lots make Bell Oaks ideal for both first-time homebuyers and families raising children. This quiet community is near Bellville Junior High School as well as the Hellas Matrix Helix Turf Field for some high school football action. The nearby ballpark lets kids enjoy a game of softball right in their own backyard.
Piney Creek
Piney Creek's selection of manor-style homes and stately country cottages give out that relaxing rural feel. Shops, restaurants, and cultural venues are easily accessible in downtown Bellville giving locals big city conveniences without leaving town.
Burleigh Plantation
Ranch-style lots with traditional farm homes provide plenty of room to create beautiful patios and lawn landscaping. The southern-style vibe of this highly affluent neighborhood shares the distinctive laid-back vibe Belville has always been known for.
Country Oak Estates
The large open lots of homes in Country Oak Estates create a staycation-style getaway right in your own backyard. Property styles and layouts vary from traditional to period-inspired, giving broad choices that suit different homebuyer needs and preferences.
Other Areas to Buy Owner-Financed Homes in Bellville
| | | | |
| --- | --- | --- | --- |
| Weige | Sanders Estates | Red Deer Farm | Gindorf Ranch Estates |
| South Forty | Hacienda Oaks | Yaupon Acres | Hickory Creek |
| Briarwood | Centerhill | Concordia Heights | Glenn |
| Buffalo Creek Estates | Long Branch | Courts Of Bellville | Kenneywood |
| Hellmuth | Sycamore Hill | The Meadows | Tangle Oaks |
Best Places to Buy a Home Near Bellville
How to buy no credit home in Bellville with owner financing
If you have bad credit and are self-employed or a foreign national, getting a mortgage might be tough. Rent-to-own and owner-to-owner financing in Bellville isn't the only options in your situation. Third-party seller financing may be your best pick if you're seeking no credit houses.